Rubino Chiropractic of West Haven's Services & Techniques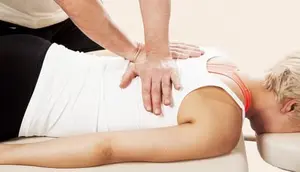 Chiropractic care is often recommended before surgery to provide pain relief. When you are seeking pain relief, pain management or injury recovery, Rubino Chiropractic of West Haven provides an alternative healing that is non-invasive, drug-free and has little side effects. Do not let pain interfere with your daily life. We have treatment options that are gentle and effective and easily fit into your weekly schedule. Plus, we accept a variety of insurances. After your new-patient special and thorough evaluation of your condition, our first goal is to provide immediate pain relief. We also work to reduce muscle spasms that contribute to your discomfort or misalignment. As we continue with our care, we desire to increase your range of motion to reduce your risk of future injuries. These are accomplished by using a variety of services and techniques at our West Haven chiropractic center. Our team knows the value of an holistic approach to your well-being and healing. We cannot wait to share our services with you.
Specific Services and Techniques
Dr. Rubino uses the best combinational approach to your overall health and healing. He wants to return you to an active and enjoyable lifestyle and one that is pain-free. Our medication-free approach ensures that your side effects are limited. Plus, you avoid the invasive surgical process which requires weeks of healing. Chiropractic care provides a non-surgical alternative and we welcome residents of West Haven and the surrounding areas to visit our chiropractic care center. Our services and techniques include:
Chiropractic manipulations- Dr. Rubino uses hands-on adjustments to position your spine into a natural alignment. His chiropractic techniques are also used on your extremities to align your shoulders, elbows, wrists, hips, knees and ankles. These adjustments provide immediate pain relief. As you continue with your chiropractic care plan, your body begins to remain in the correct positions for a longer time which lessens your pain.
Pinched nerve relief- chiropractic adjustments also alleviate pinched nerves that contribute to your pain. If your vertebrae are compressing a nerve, your brain receives a pain signal. We help to reduce this pressure and lessen your pain. If your nerves are compressed by discs that are bulging or herniated, we also reduce the pressure in this area to free your movement.
Low Current Therapy- our low current therapy is similar to a direct massage. This therapy can block nerve receptors to reduce the pain signal sent to your brain. In effect, it offers a non-medicinal approach to pain management.
Manual Muscle Therapy- this form of massage therapy helps to loosen tight muscles and breaks up deep layers of scar tissue. As a result, your range of motion improves and inflammation reduces. This type of services promotes healing from within and strengthens your body to care for itself.
Nerve Reflex Therapy- nerve reflex therapy helps to eliminate opposing muscle tension and reposition your body into proper alignment
Trigger Point Therapy- trigger points are areas of tight muscles that are painful. These areas often radiate into your extremities and are felt as weakening or numbness. Our tripper point therapy targets tight areas to eliminate your pain.
Please call us today at (203) 933-9404 to get started now.